APS Express 3/30/2023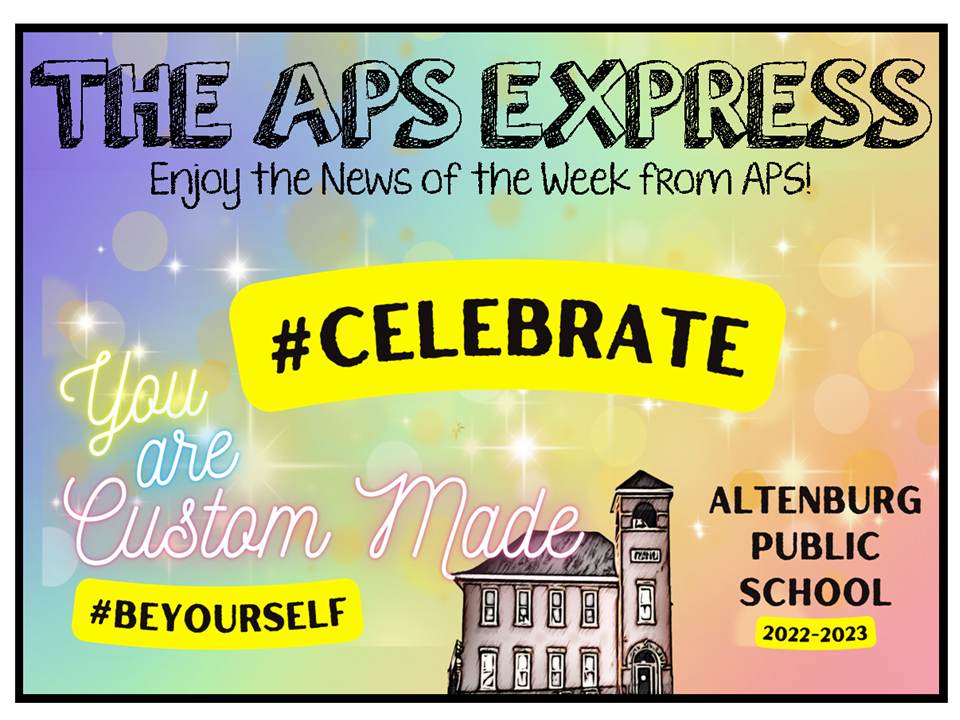 ---

7th & 8th Grade Visits Jefferson City
Article Written by Guest Writer, Jadyn Muench
On March, 21-22 7th and 8th grade went to the capital of Missouri. We left on the bus at 8:00 A.M. Tuesday morning. Our amazing bus driver, Mrs. Allison drove us on this whole trip.

After that we arrived at the State Technical College in Linn, MO. We went on a tour of the entire college. We began our tour in their cafeteria, with sandwiches, chips and beverages; while we watched a short clip of their programs. After that we toured the big mechanics section first. This was where you could find the big diesel trucks and motors. Following that was the nursing unit, where you could find anything and everything you could think of that involves a nurse. They had equipment, mannequins, etc. After that we went to the sheet metal fabrication factory, where they worked, or filed the metal sheets. Then we went to the welding part of this college, where they were welding a variety of items. We also went where the line men practice, they put poles up with wires and things. It was a huge dirt floor, scattered with big machines and equipment. We wrapped up our tour with a picture with their alligator, which I'm sure you can find with this summary.

After that we checked into our hotel in Jefferson City. We stayed in the Baymont hotel which made sure all of our needs were taken care of. Then we went to Freddies for supper, and I'm sure everyone who went can agree it was delicious. Then we were ready to go to the State Penitentiary, which some may know as the Bloodiest 47 acres. We all got trapped in at first from the office, then we got a short history of the land we were standing on. Then we went and we toured the men's cells, sadly we were not able to tour the womens, and she told us about the riot in 1954; the biggest riot that ever happened in this penitentiary. Then we proceeded to the basement, then to Death Row. Now this is where things get interesting. If you were one of the few that were looking at just the right moment, you saw him-the Shadowman.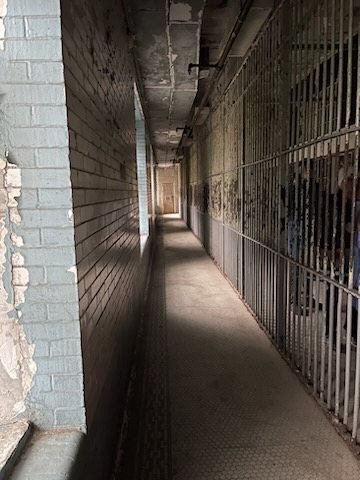 Now some may not believe in ghosts, but after this you will! You could see a tall outline of a man, standing there, watching you; then, he was gone. If you ask some of the few that saw him, they can tell you how it made them crawl out of their skin. Cell 24 on death row is where 2 men came and beat one guy to death for an hour, and then tried to do it to another, but he stuffed dirt and paper in the key hole and saved himself. If you ever decide to tour the bloodiest 47 acres, which I do recommend, you will feel some creepy things, and you will learn some interesting facts. We learned that the person who assassinated Martin Luther King Jr. was imprisoned there and escaped, and Charles Arthur Floyd, or known as Pretty Boy Floyd, was also imprisoned there. We then drove a few miles to the gas chambers. Our tour instructor gave us some inside info on how things were run back then, of course very different from today's society, and how some were killed. The process was fairly simple. Someone had a lever they pulled after you got your last meal, and were locked inside of the chamber. They had a pipe leading out the top for the toxic gasses to float into the atmosphere. Now one thing is, you could see who all got killed in the gas chamber, and the reasons that they were put there, and, if you were killed, it was at 12:01 A.M. exactly. After we got done there we went back to the hotel and slept off all those steps.
Wednesday morning arrived, and the walking started again. Our hotel served us breakfast where there were cinnamon rolls, cereal, juices, coffee, pancakes, biscuits and gravy, and more.
We got onto the bus around 8:30 and headed to the capitol building. This is where we saw all of the students and adults dressed very sharply. We got to go to the whispering library, where we learned a little history of the building along with the beginning of the tour and our lovely tour guide. Then we went to the state House of Representatives where we saw Mr. Francis. While we were sitting in the senate area, we got recognized by Mr Francis and the house gave us all a warm welcome. We had lunch there as well, we had pizza and some got salads and such. We got to use the stamp and stamp our own paper with the seal on it. We got our picture taken with Mr. Francis, who was amazing and answered every question we had.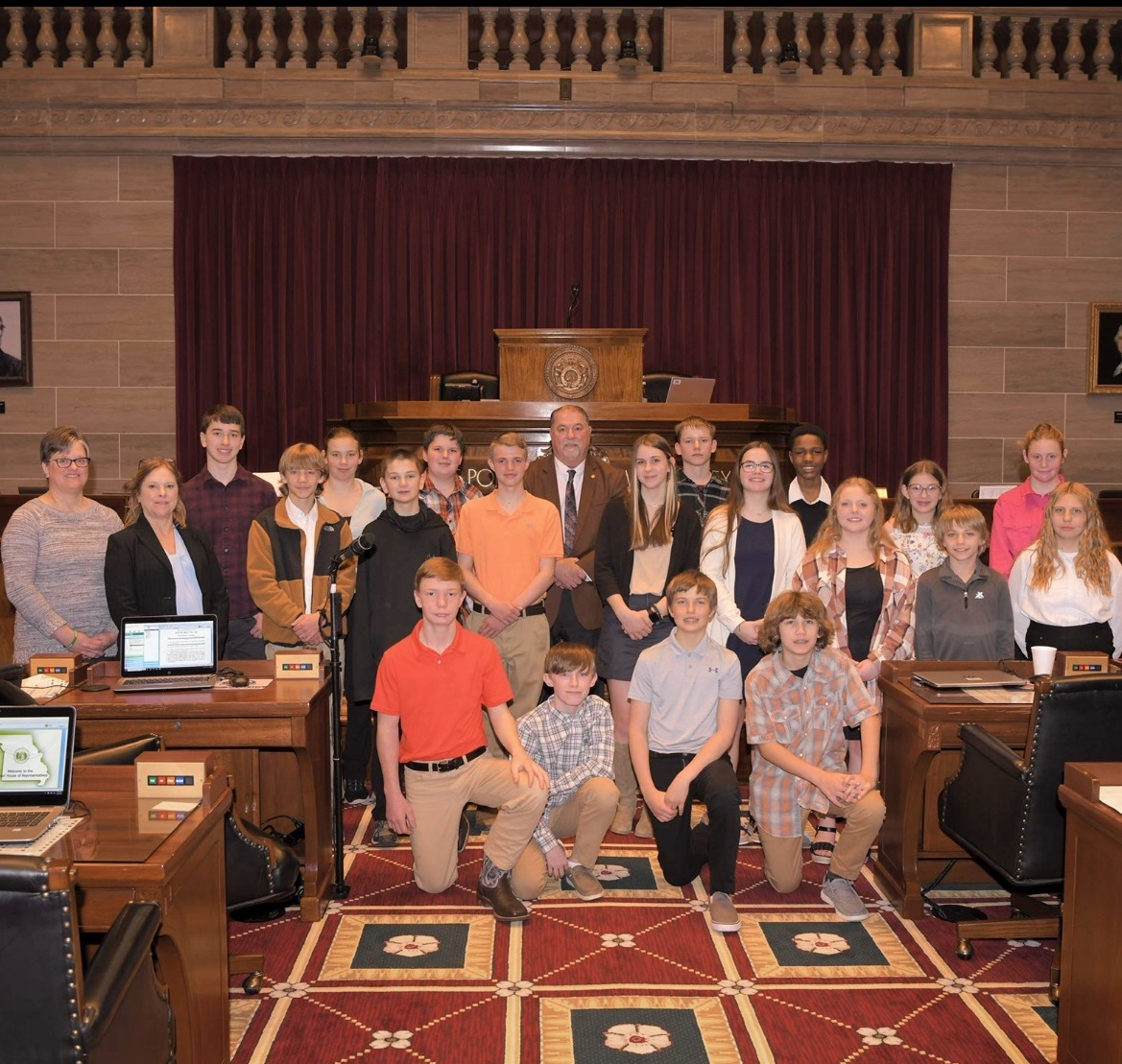 On the way home, we stopped at Central Dairy and if you haven't eaten there, you need to try it. It is overall the best ice cream I've ever had in my life.
I can proudly say that this was a phenomenal trip and it gave this year's 7th & 8th graders memories that they will never forget.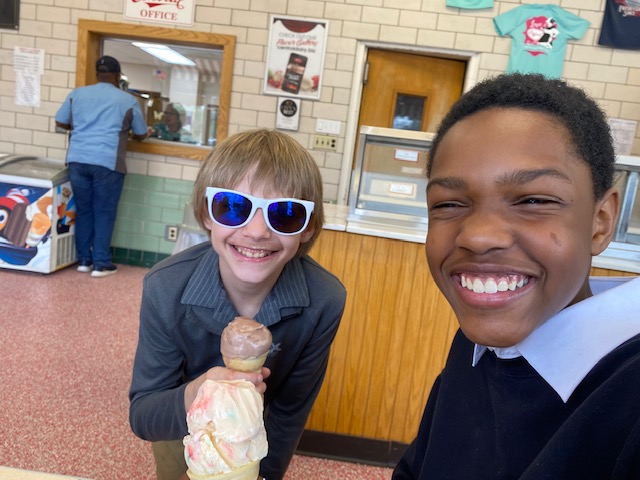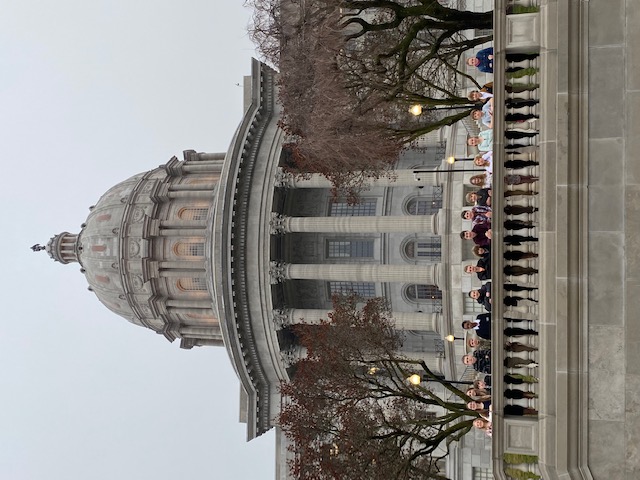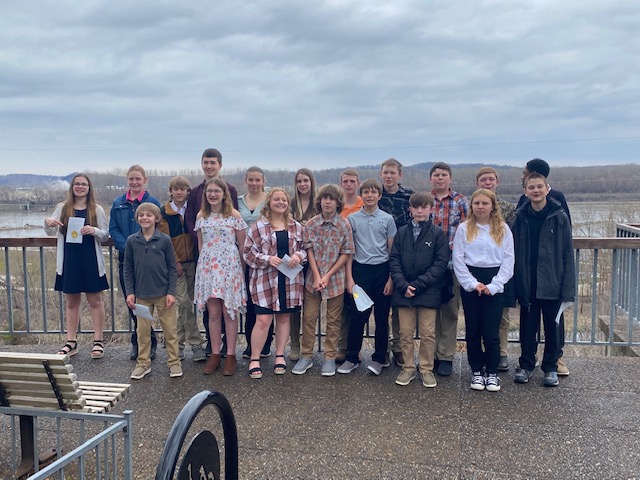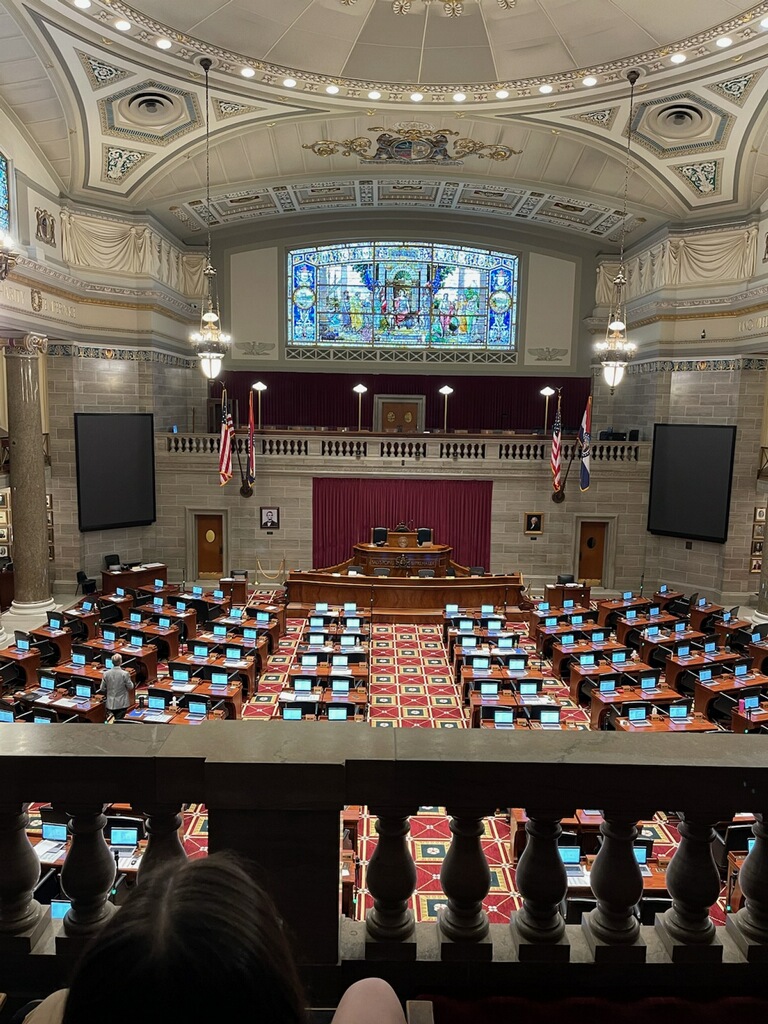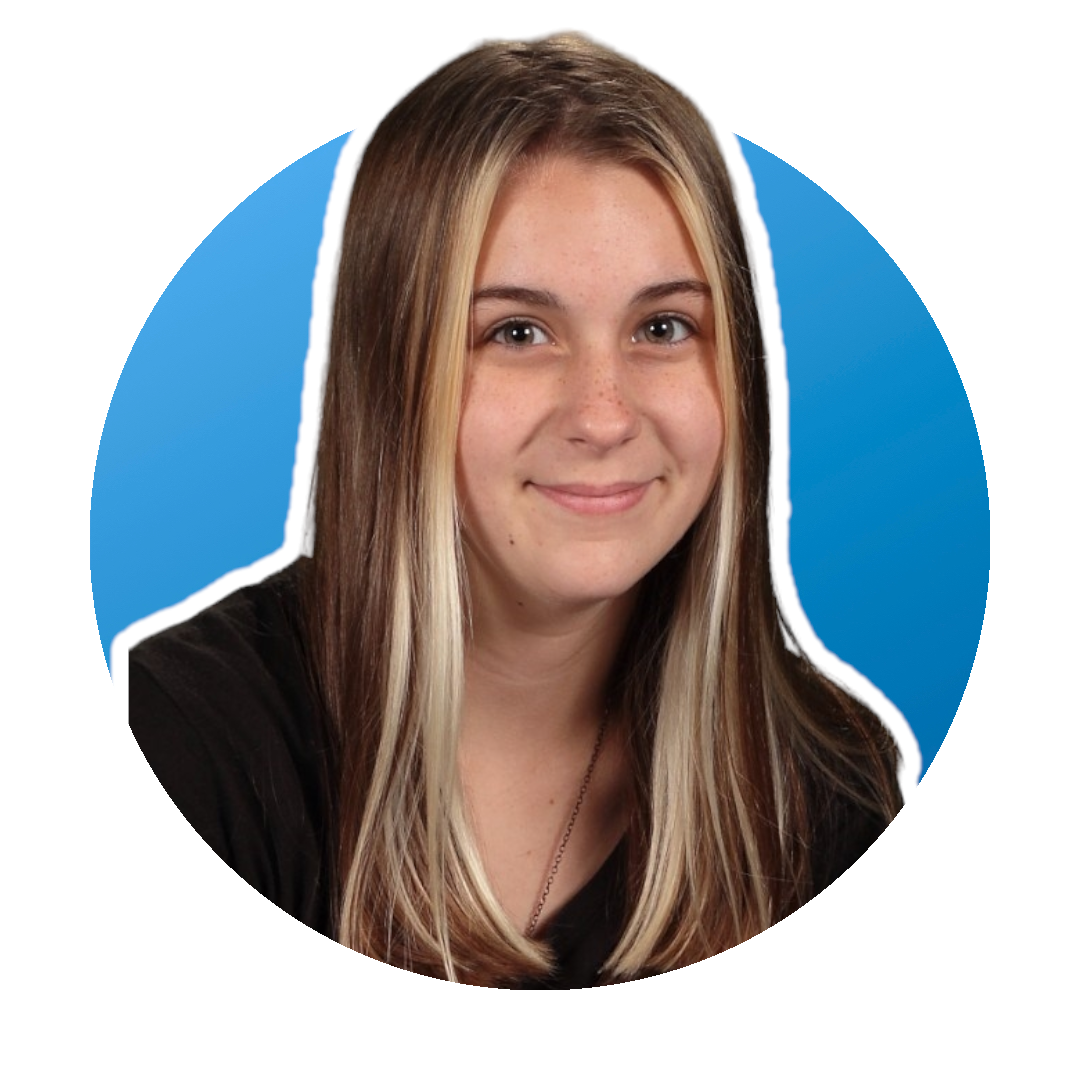 Guest Writer: Jadyn Muench
Jadyn Muench is the secretary of the Altenburg Public School Student Council. She enjoys notetaking and is also the secretary of the Mighty Mustangs 4-H Club. Jadyn is a 7th grader at APS and hope to pursue a career in Veterinary Science studying marine wildlife.
Scroll down to the bottom of the APS Express for more pictures!
Boys Volleyball Celebrates Parents Night!
Ladies and gentlemen, it's time to celebrate the amazing parents of our boys' volleyball team! Recently, we held our annual parents night and it was a huge success.
First, let's talk about the parents. These folks were true MVPs of the night. They came out in droves, cheering and supporting their sons every step of the way. From the stands, they were loud and proud, shouting out their encouragement with every serve and spike.

And the players! They were truly in top form that night. You could see their faces light up as they heard their parents cheering them on. They were diving, setting, and spiking with everything they had. It was truly inspiring to see them play with such passion and determination.

But the real magic of the night was the sense of community that we all shared. Everyone was there to celebrate the boys and their love for volleyball. From the coaches to the players to the parents, we all felt like we were part of something special.

All in all, it was a fantastic night that truly embodied the spirit of our team. Thank you to all the parents for their unwavering support, and congratulations to the boys for a job well done. We can't wait to see what the future holds for our boys' volleyball team!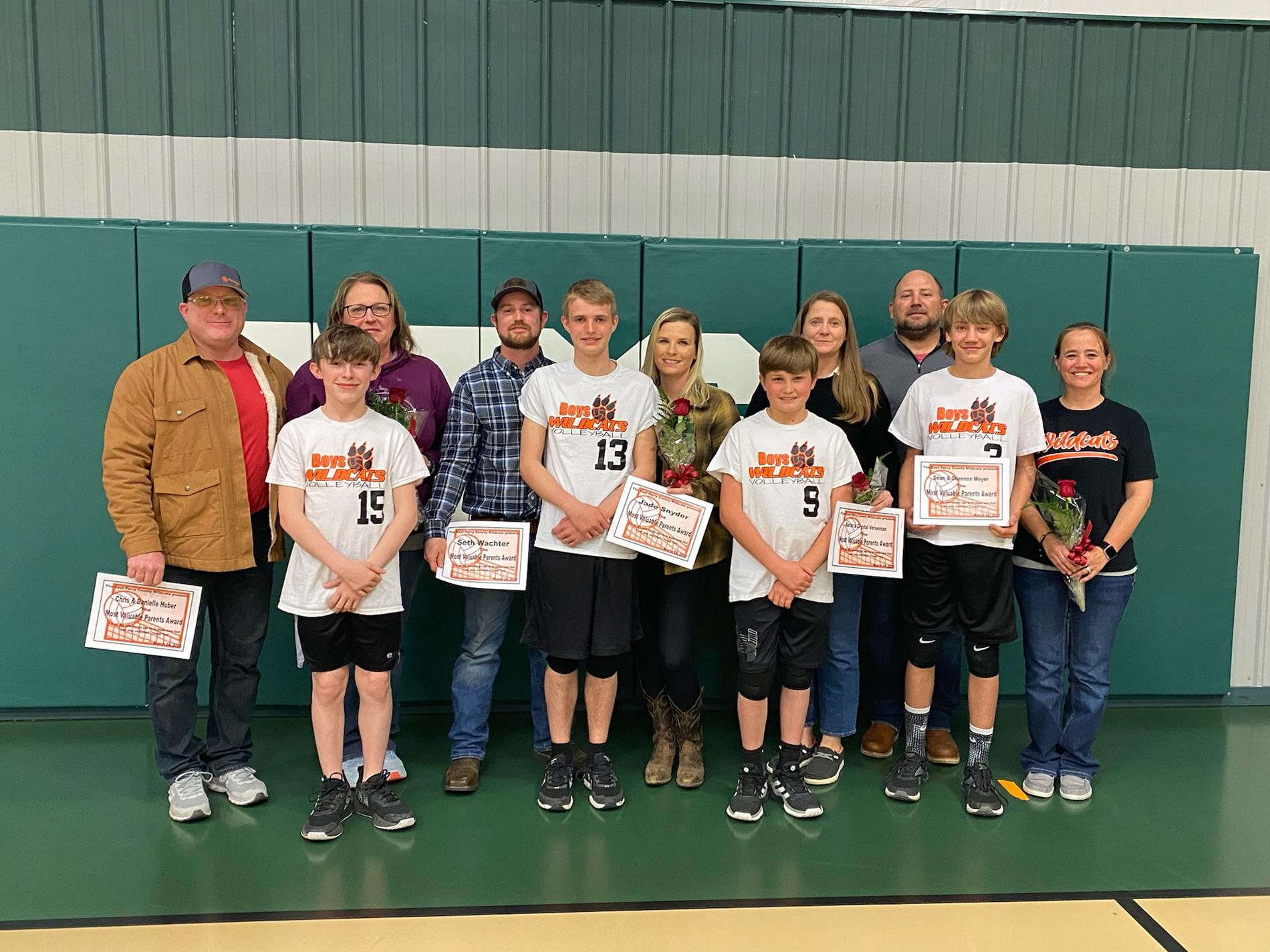 Congratulation, Kate and Aaron!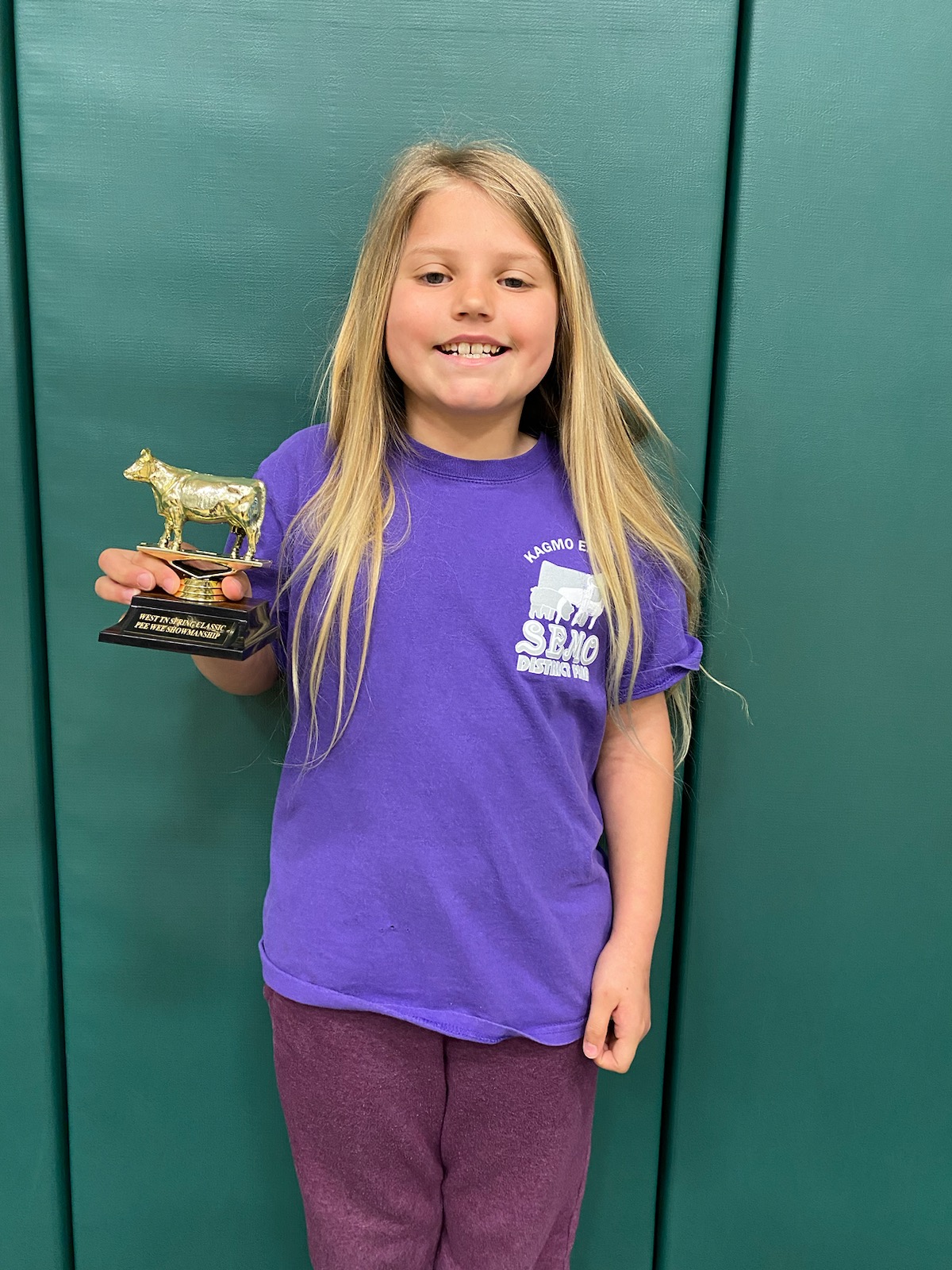 Two of our students recently traveled all the way to Trenton, Tennessee to participate in the West TN Spring Classic Cattle Show!
The purpose of this cattle show is to promote the welfare of the cattle industry, to further the education and cooperation of young people interested in the cattle industry, and to explore all possible beef related career opportunities. During the show, youth are encouraged to demonstrate sportsmanship as well as to strive for modesty in winning and generosity in defeat. The West TN Spring Classic Cattle Show is recognized as a Tennessee Cattlemen Association Top Tier Point Show.
Kate showed her Shorthorn Steer, Rusty and placed third! Aaron placed 5th with his commercial Steer Crush!
Here at Altenburg Public School, we love when our students share their accomplishments with us! It is this kind of hard work, dedication, and perseverance that helps our students succeed in school and beyond!
Congratulations and keep up the good work!
Do you want your child's out of school accomplishments featured in our newsletter? From Taekwondo belts, to car races, we would love to celebrate your child's success! You can send pictures and details to kboxdorfer@altenburgps.eduk12.net and I will do my best to include them!
This Week's Featured Student Work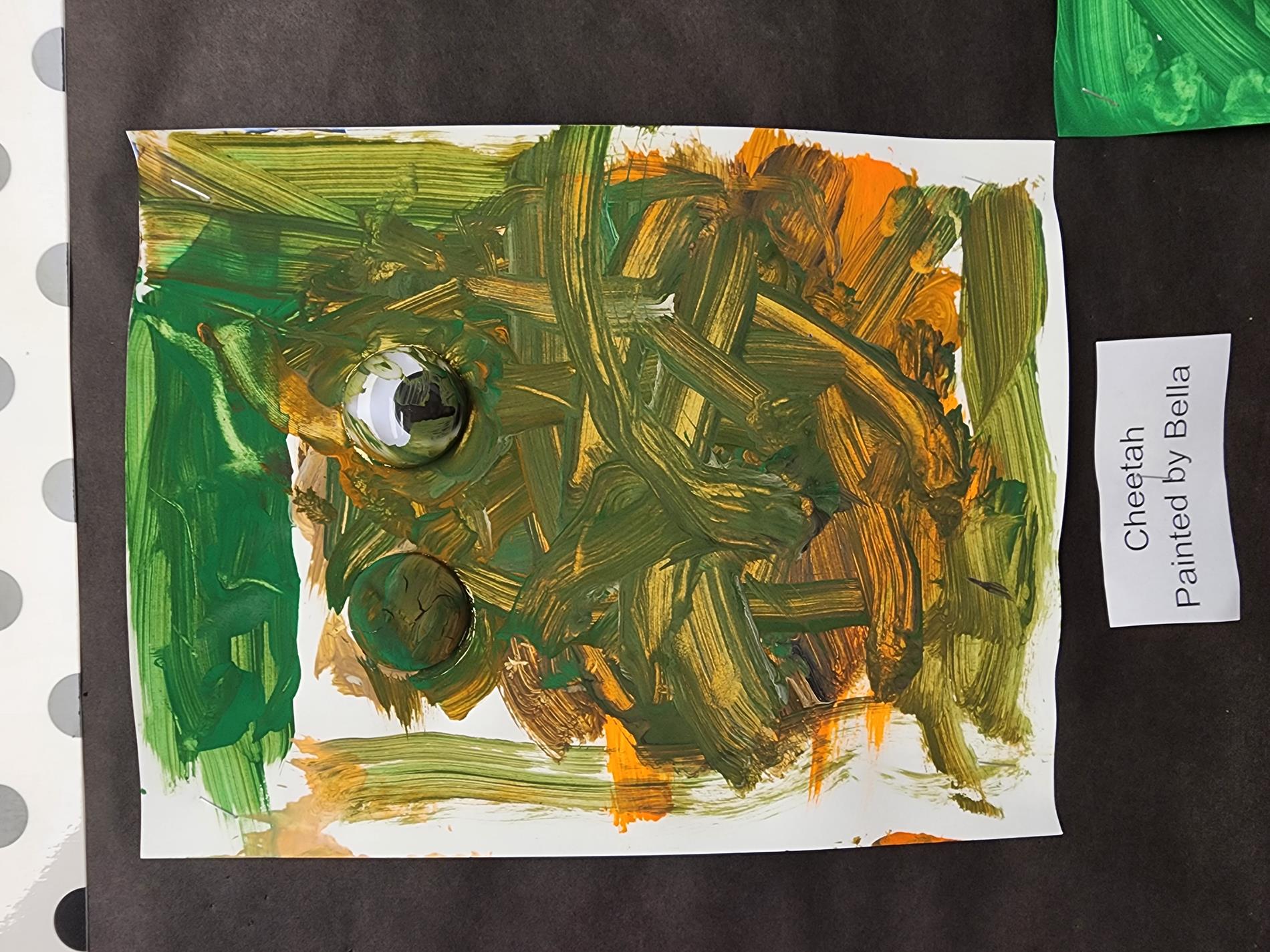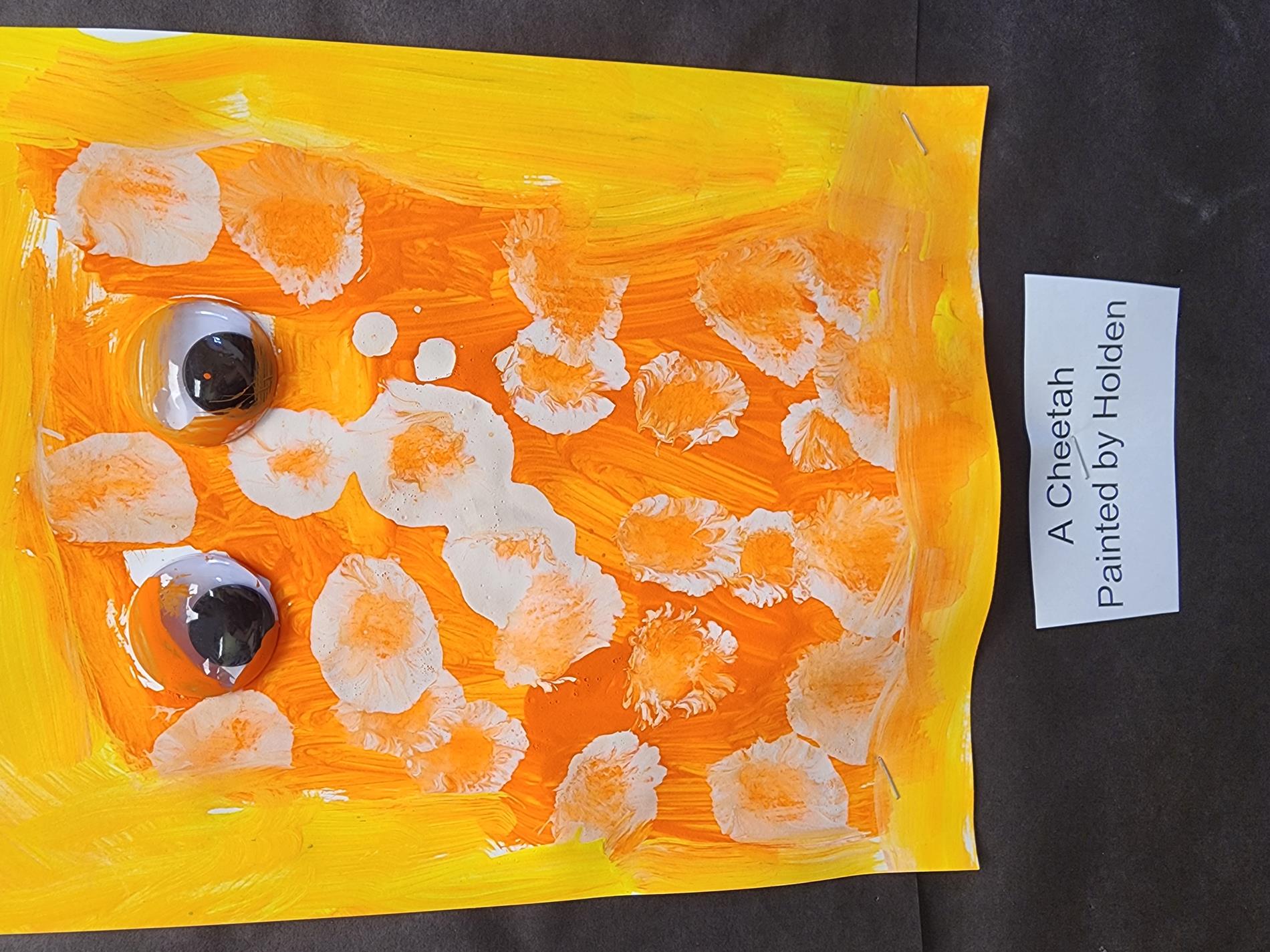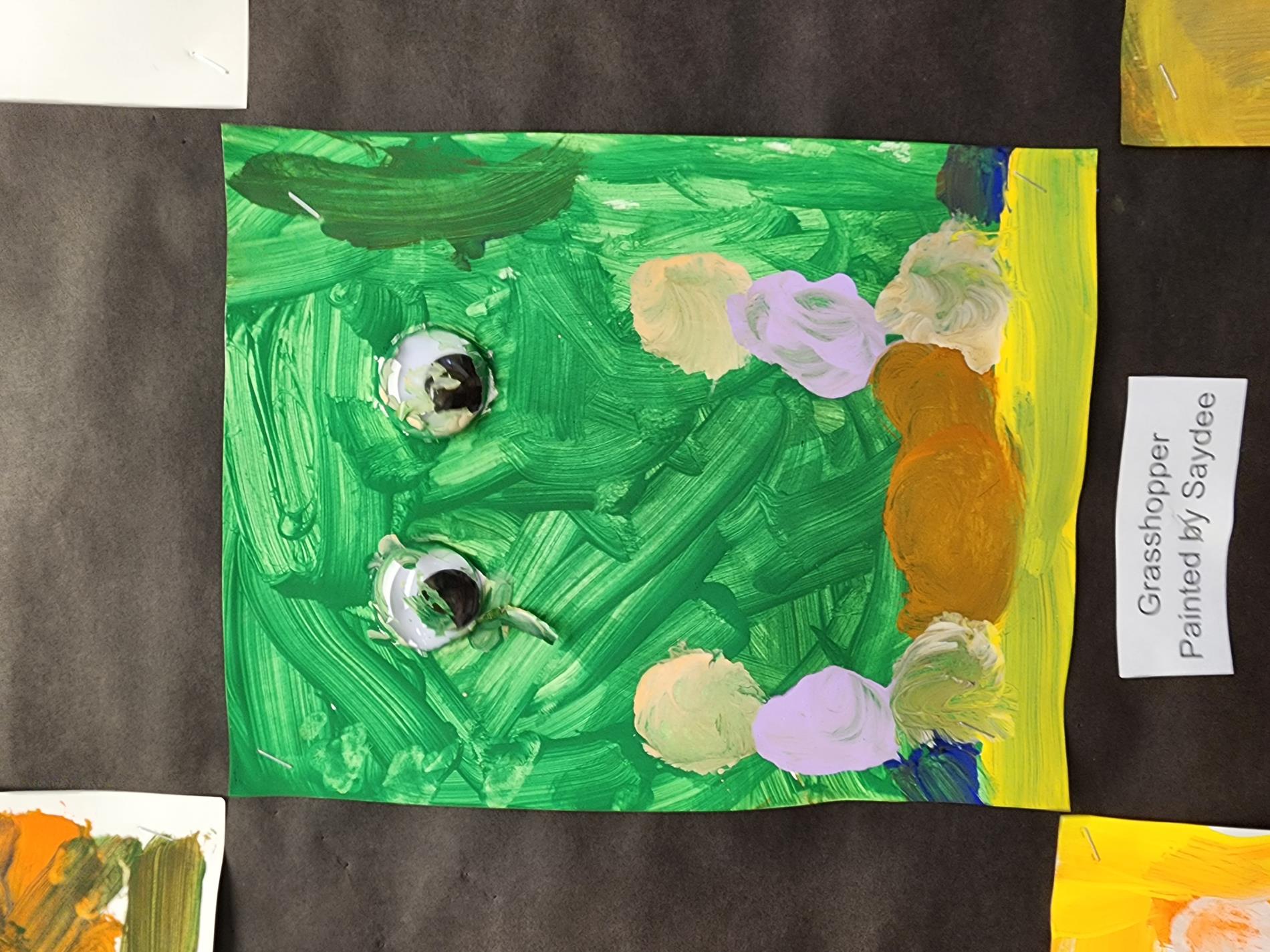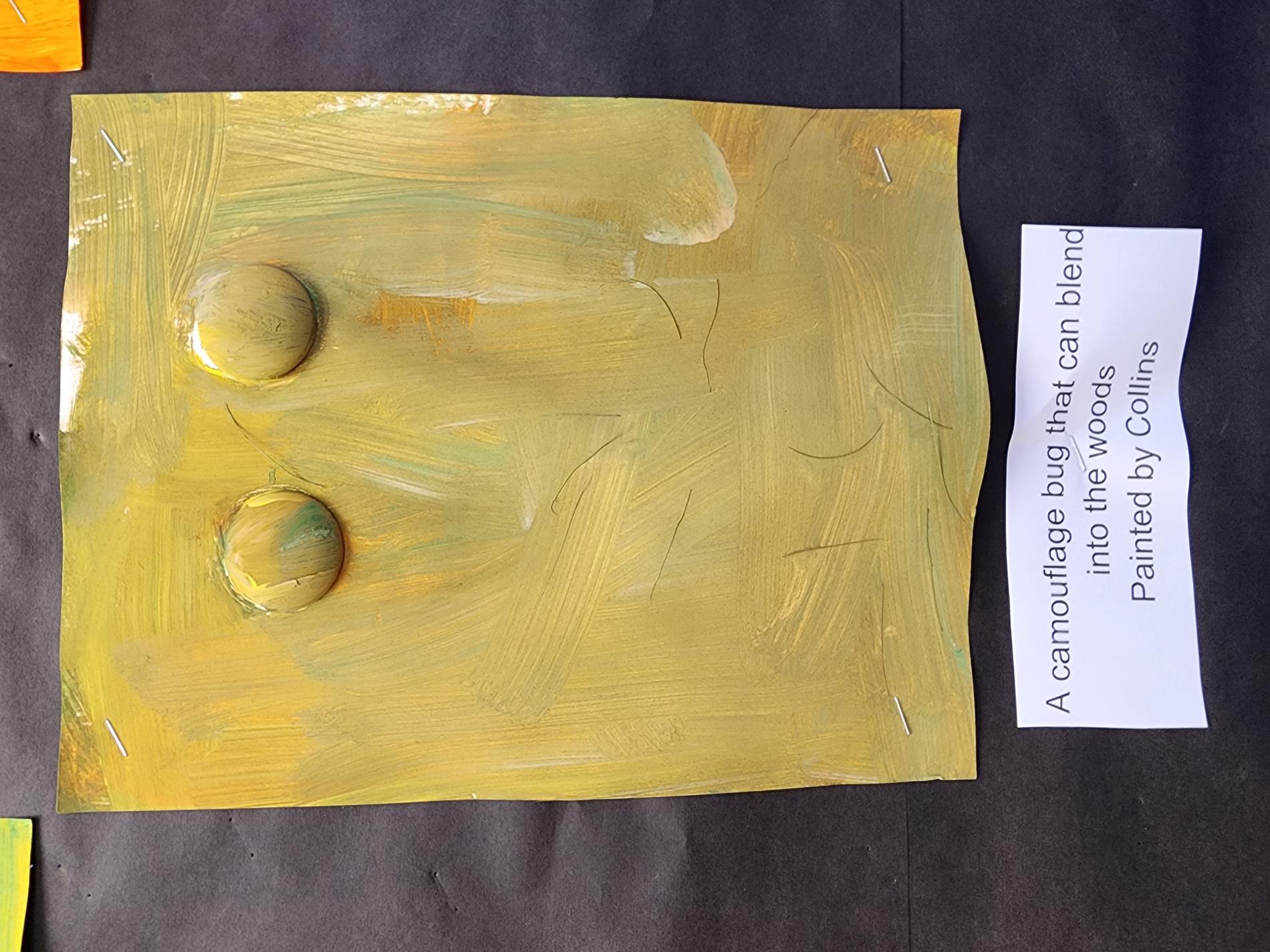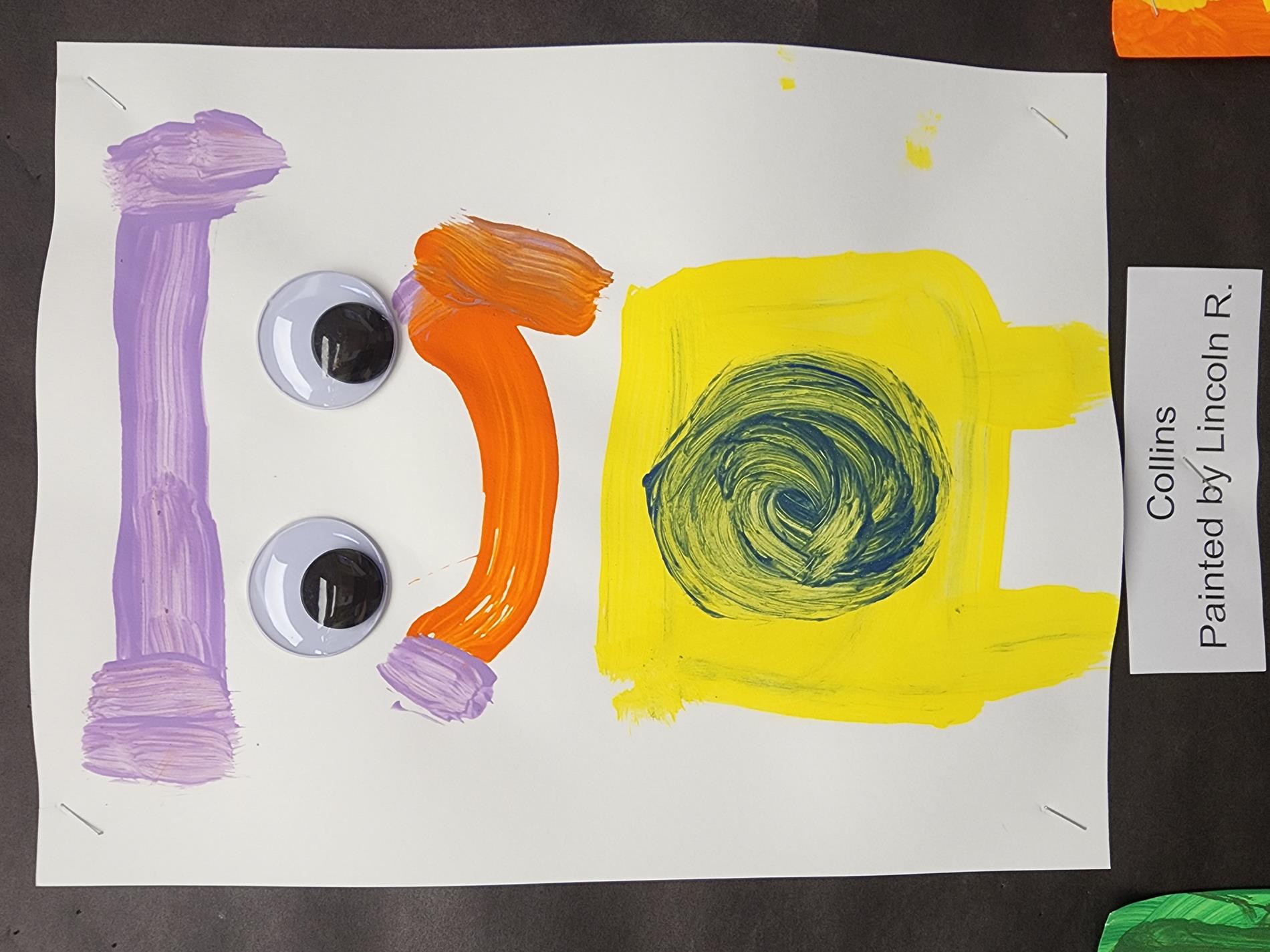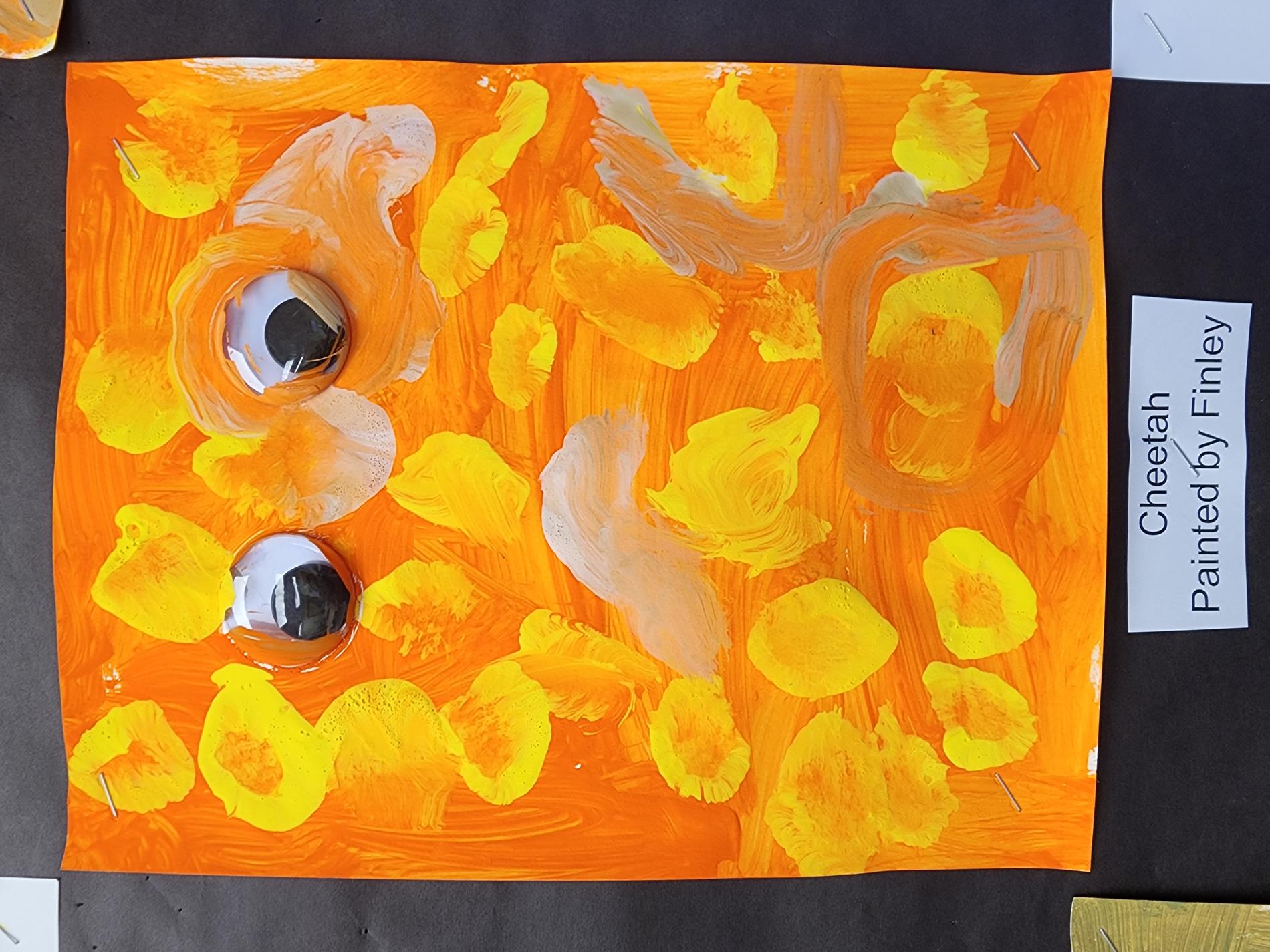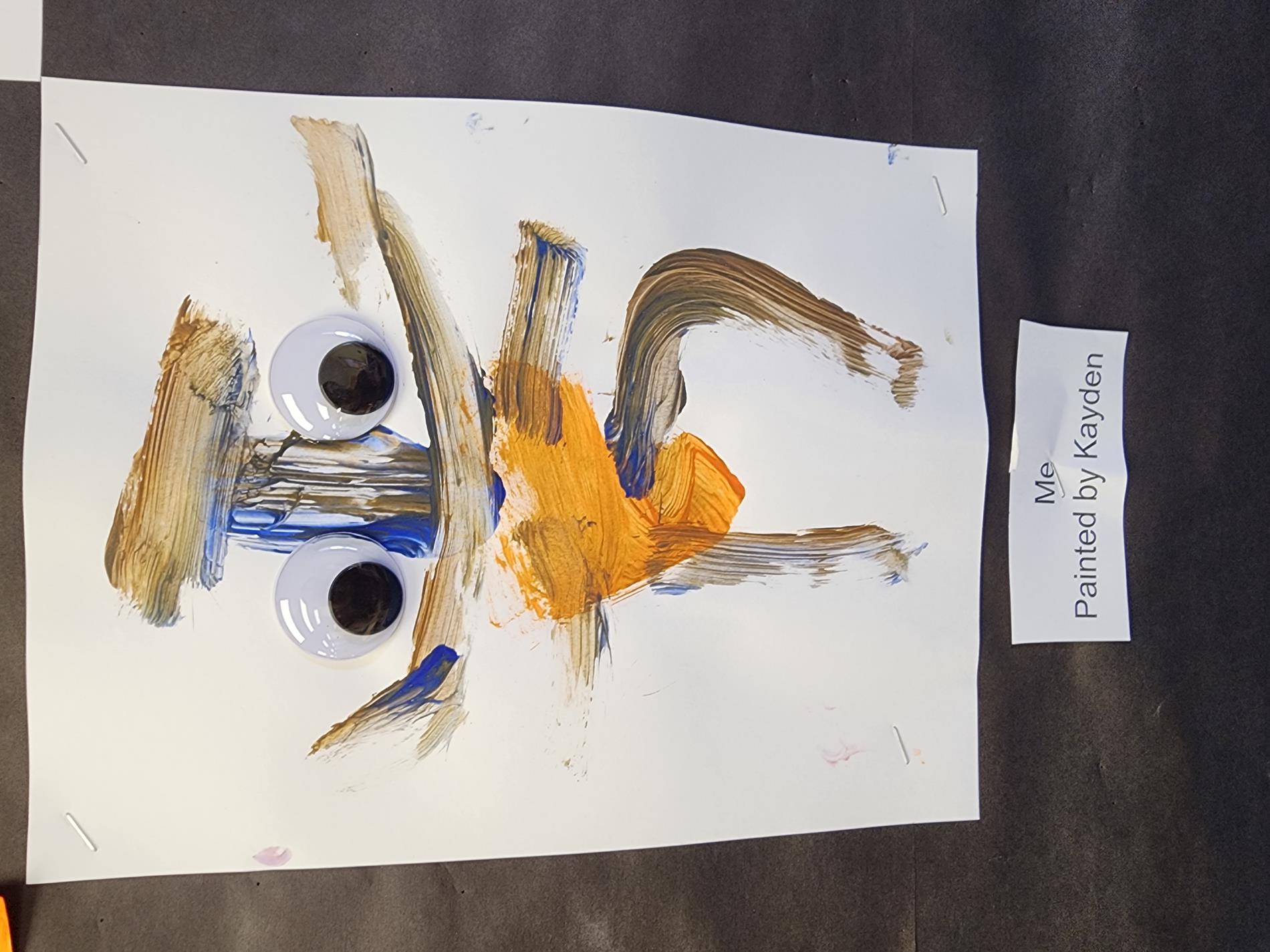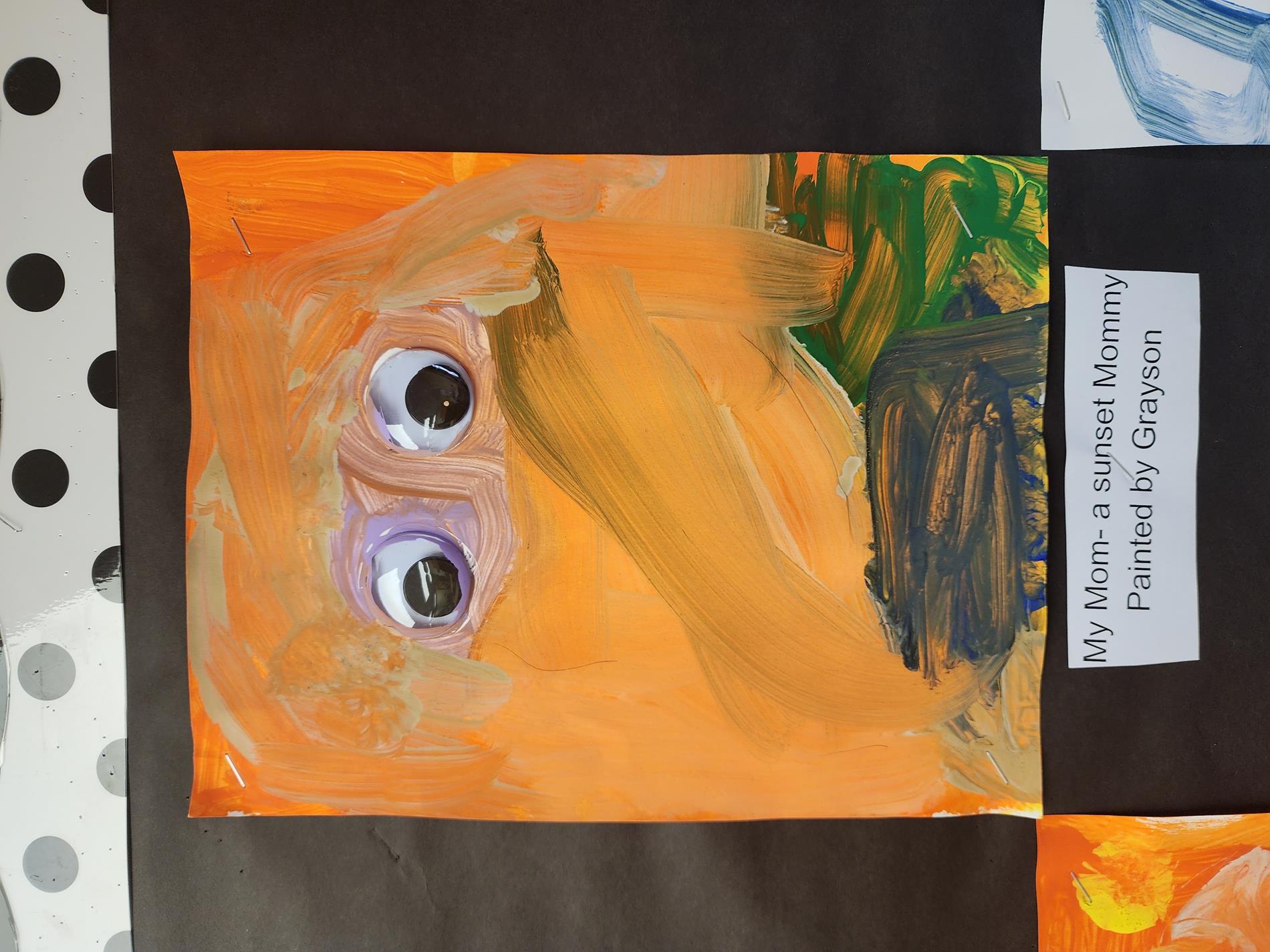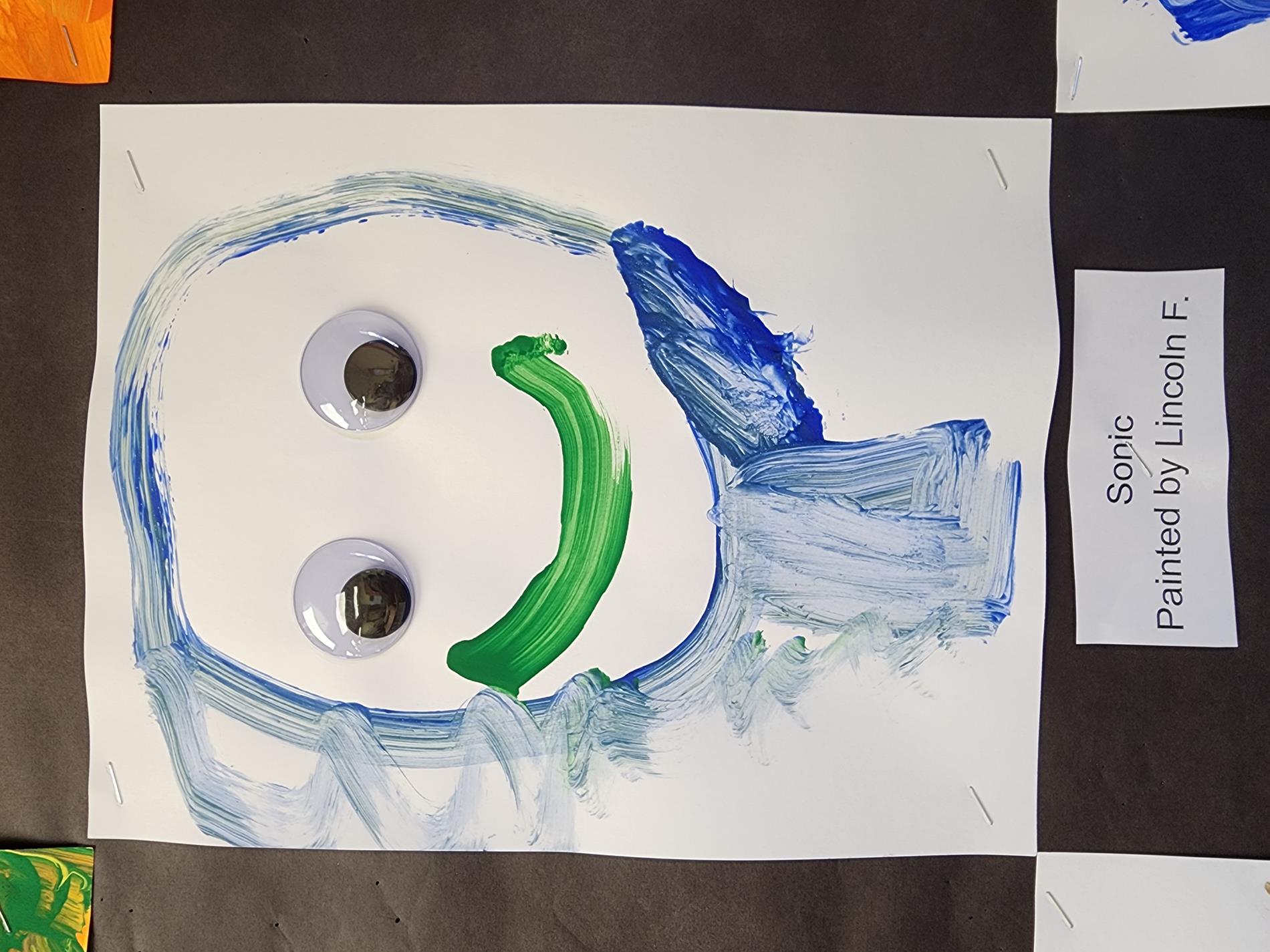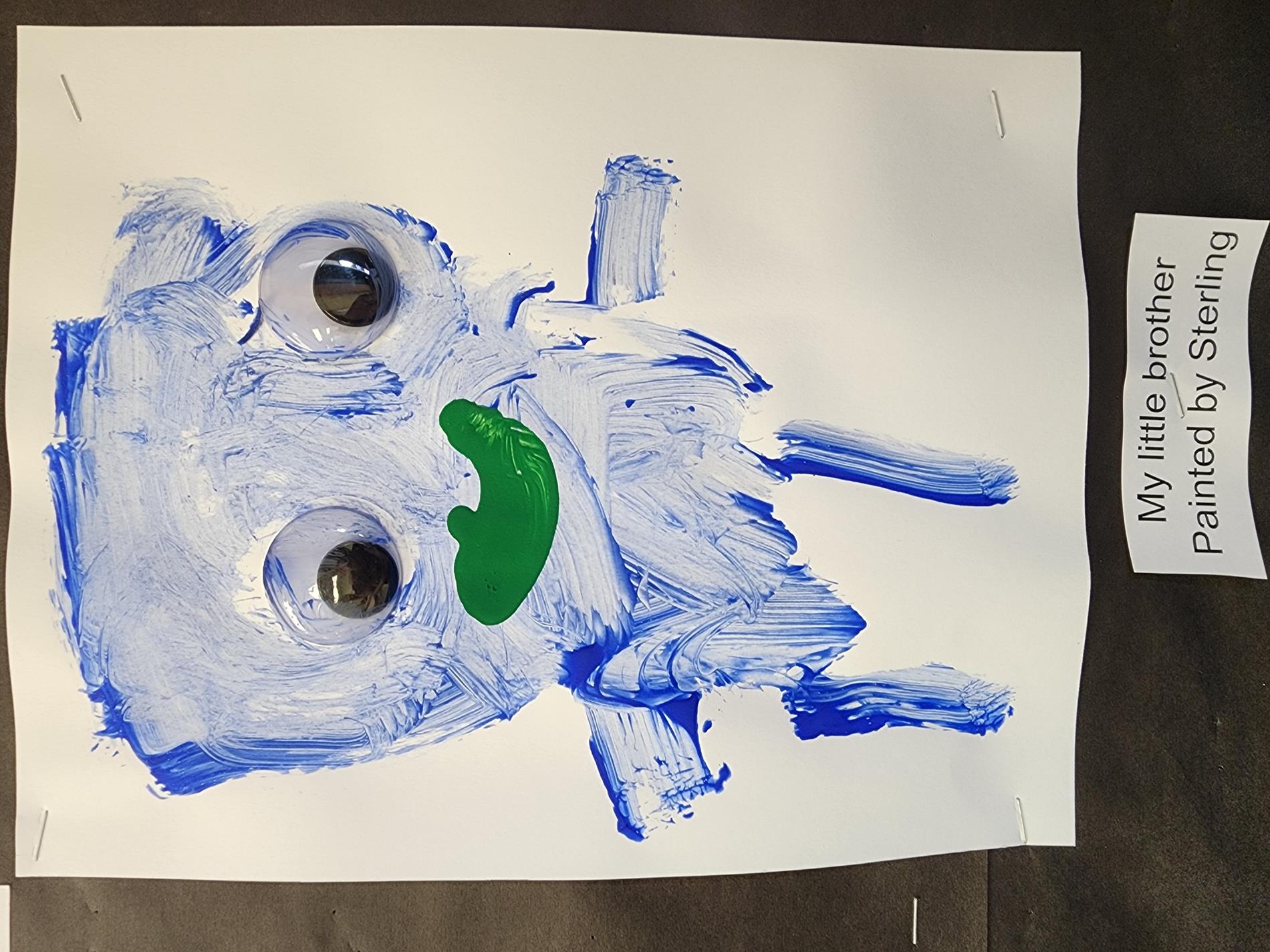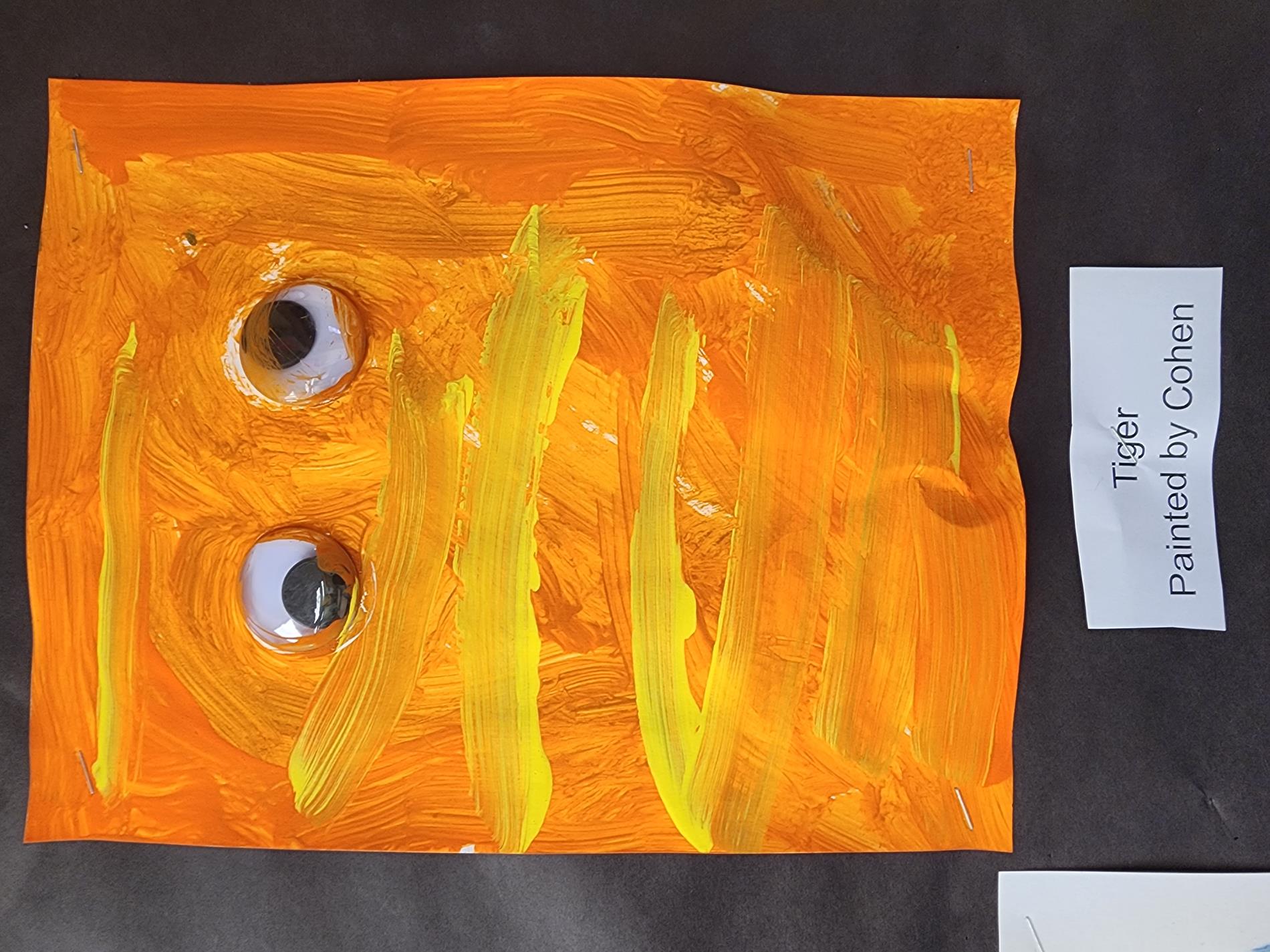 Community Easter Egg Hunt
at Salem Lutheran Church
will be April 8, 2023
at 10:00.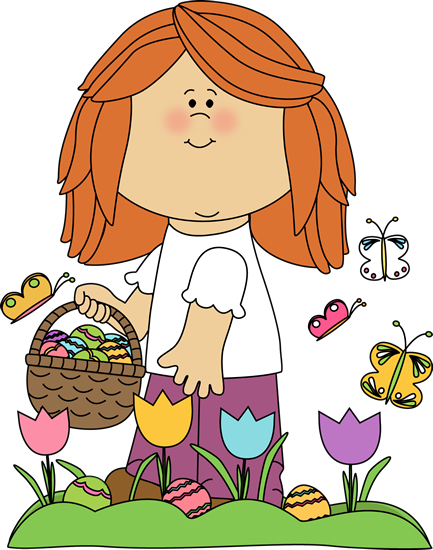 All children from birth to 5th grade are welcomed to hunt.
Arrive Early!
Sponsored by the Farrar Hawthorne Club and Teen Council-Building Communities Together grant.
Preschool will be closed tomorrow!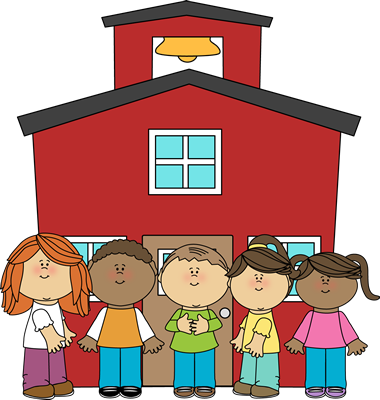 Kindergarten Screenings
Tomorrow,
March 31st
at the APS Preschool.
Screening is open to all children ages 3 through 5 years old. Each child will receive a Dial-4 Developmental Screening.
Call Mrs. Jen Eifert at 824-5857 if you have any questions!
*APS Preschool is currently accepting enrollment for the fall for all potty trained children who are 3 years old and up!*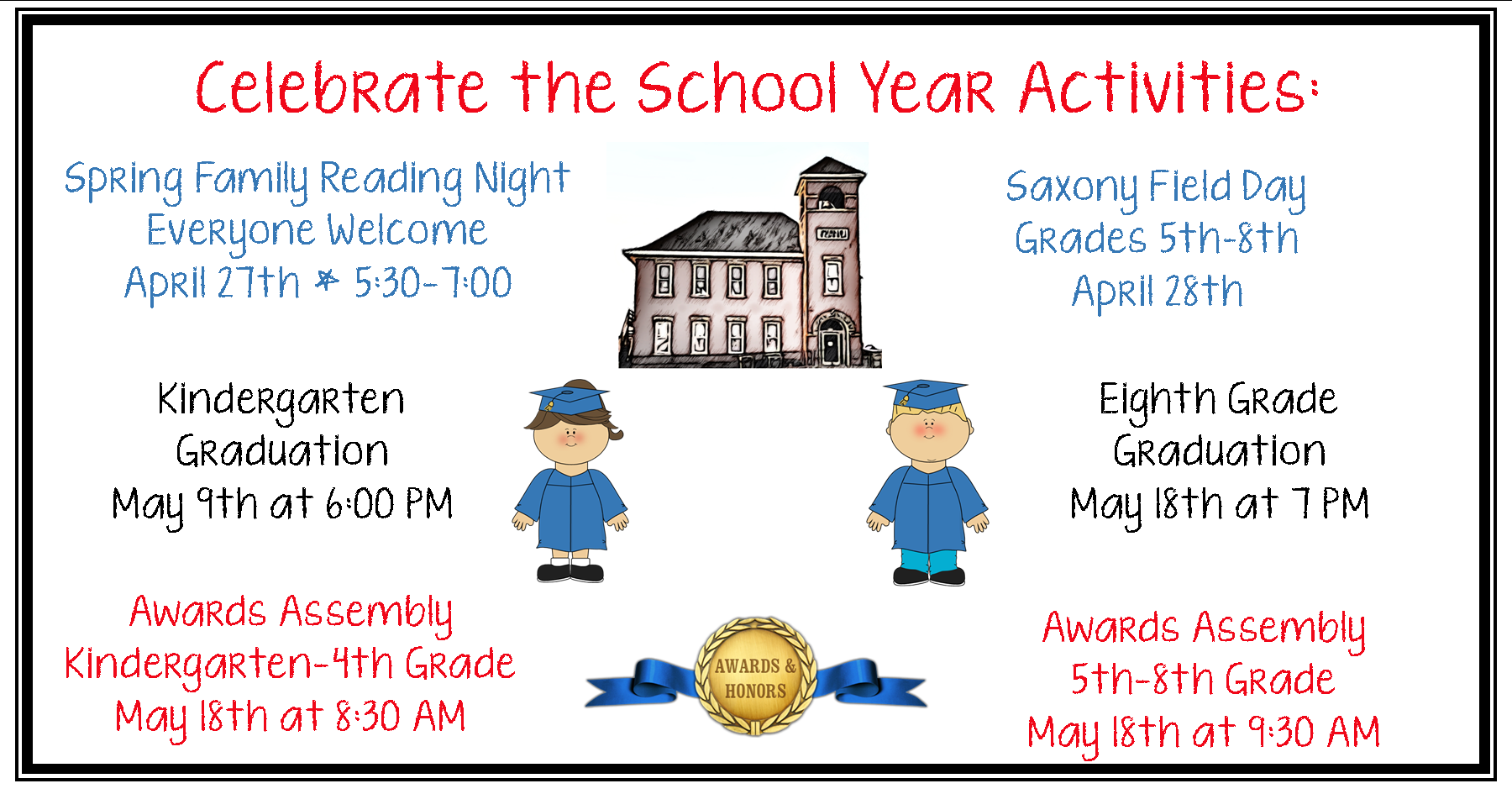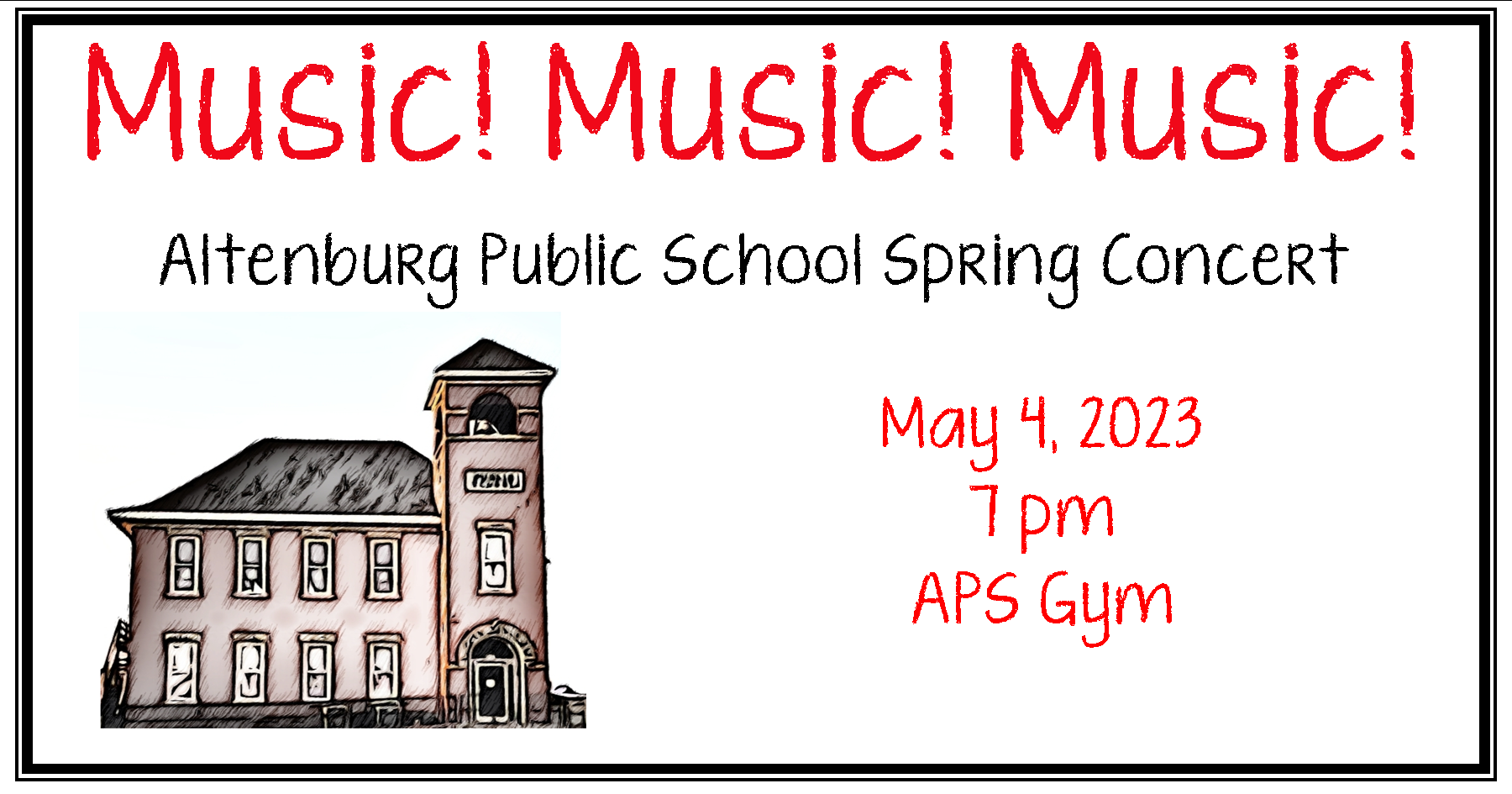 Tomorrow, March 31 -
Preschool is Closed - Kindergarten Screenings
April 4 -
Sports Banquet UCLS 6 pm
April 6 - 11 -
No School Easter Break!
April 8 -
Buchheits Bake Sale
April 13 -
School Board Meeting
April 12 - 14 -
Bring Tabs (Last Time This Year!!!)
April 14 -
Midquarter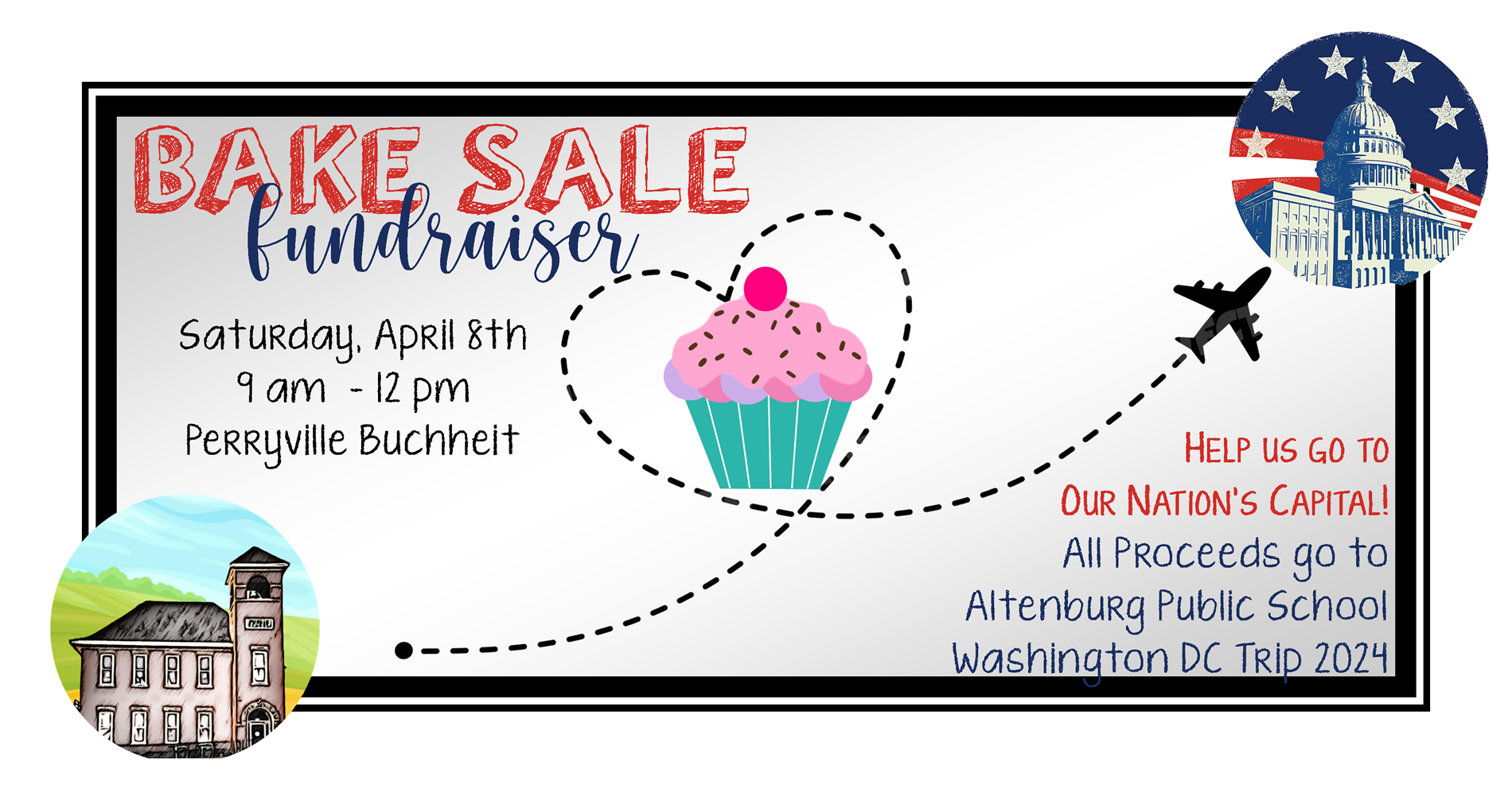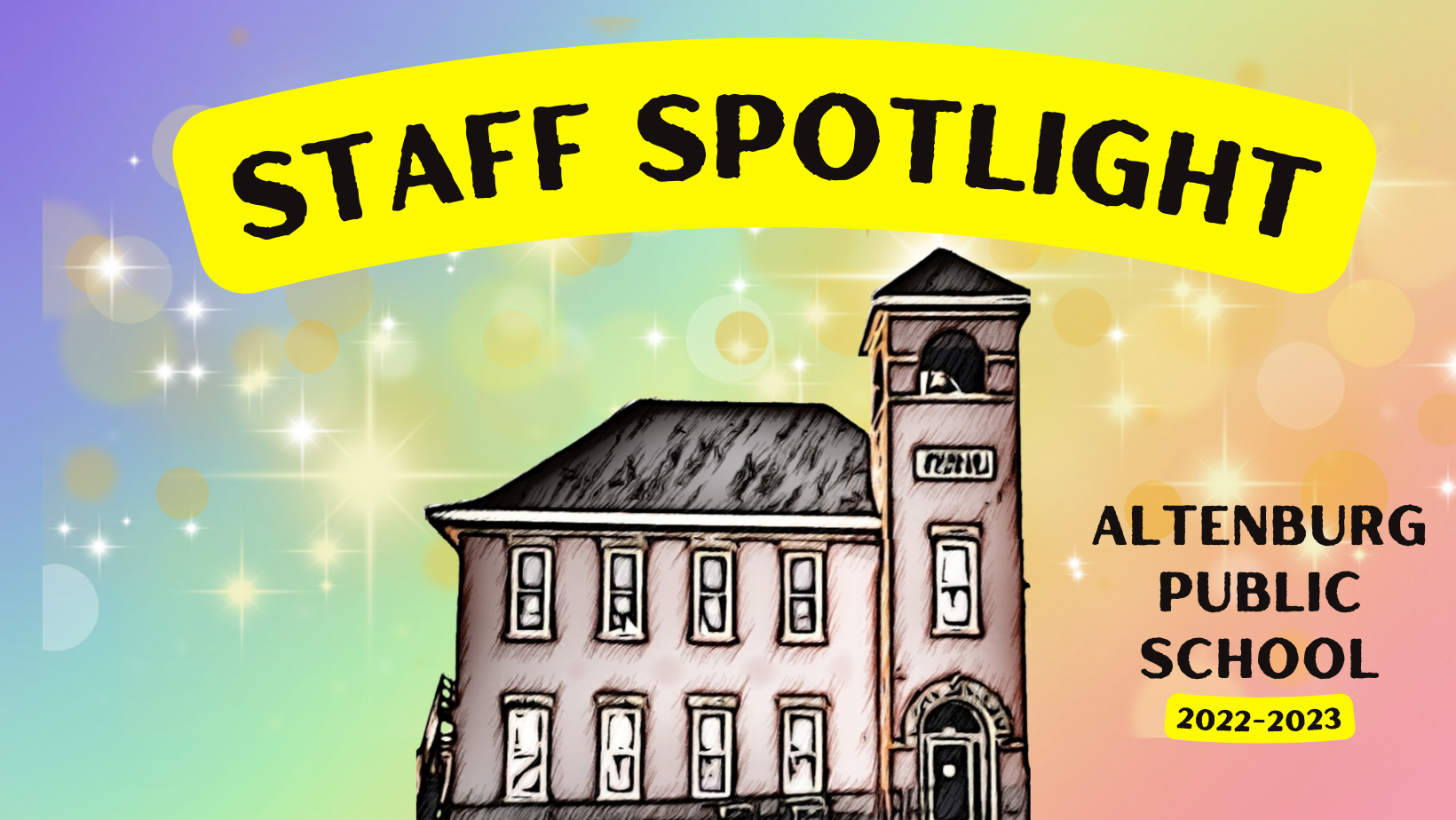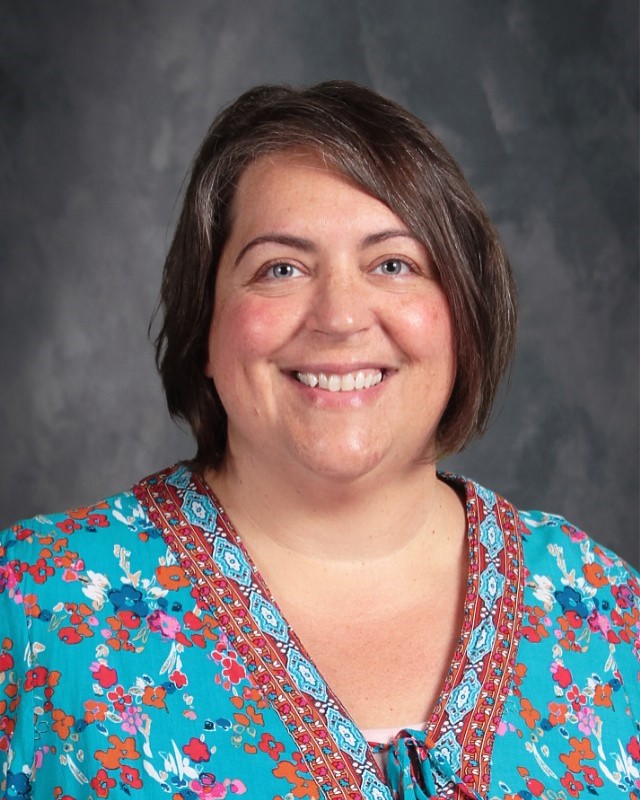 Hello from middle school!

Thoughts of spring and the start of 4th quarter have brought some new excitement into the classroom.

Both the fifth and sixth graders have been working hard this school year. In reading, fifth graders have begun their fifth novel study, and sixth graders are getting to experience a literature circle with their peers.

Science is always an adventure–last week we 'popped' in some learning with a popcorn STEM activity, and this week students played the Rock Cycle Card Game.

To conclude our Ancient Greece unit in Social Studies, both fifth and sixth grades created and presented a slide presentation on a Greek God. Later this week we will start our Ancient Rome Learning Stations activity.

"Tell me and I forget, teach me and I may remember, involve me and I learn." - Benjamin Franklin

All my best,

Mrs. Borowiak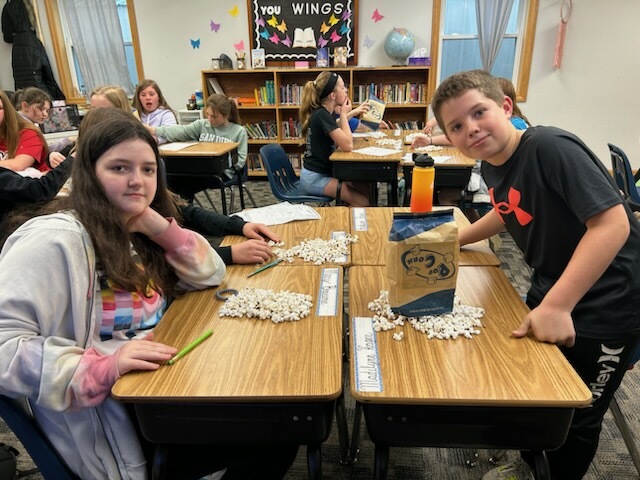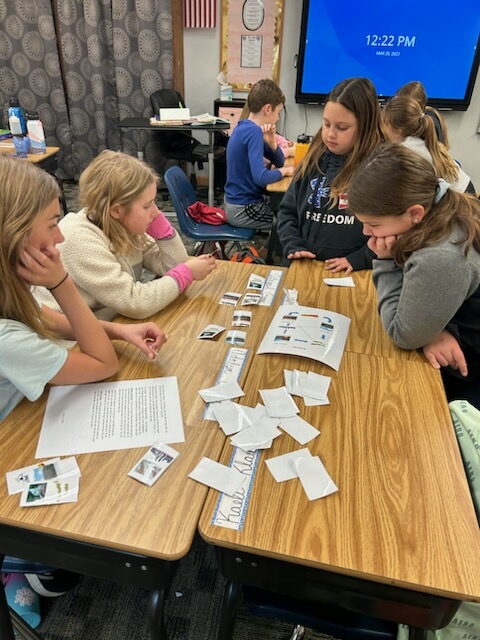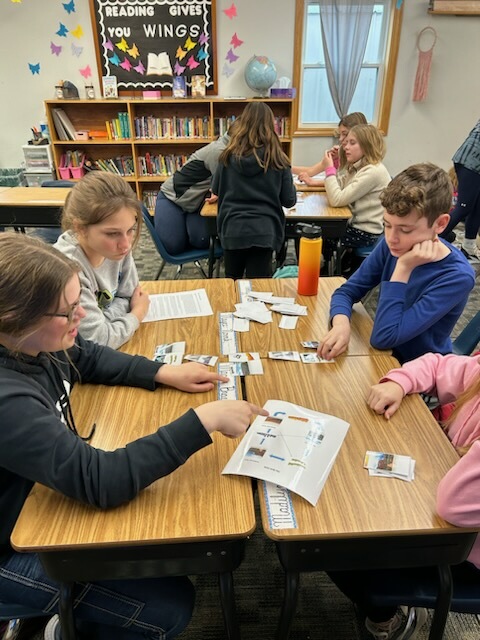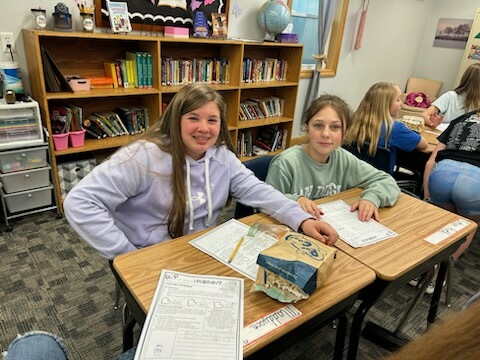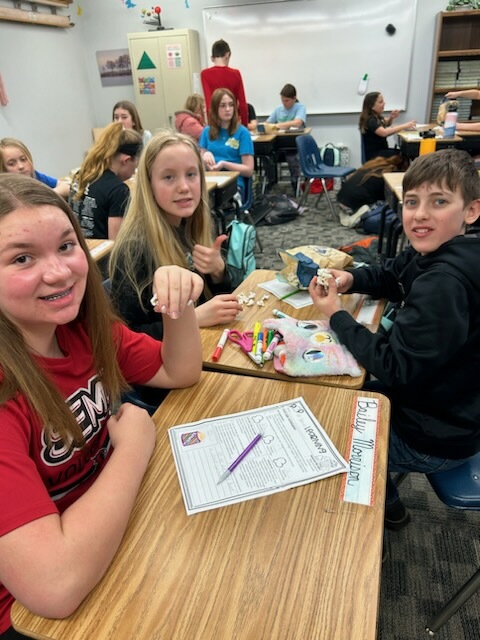 Pictures from the 7th - 8th Grade Field Trip